Chambers Europe 2023: KNOETZL Celebrates Superior European Ranking in Dispute Resolution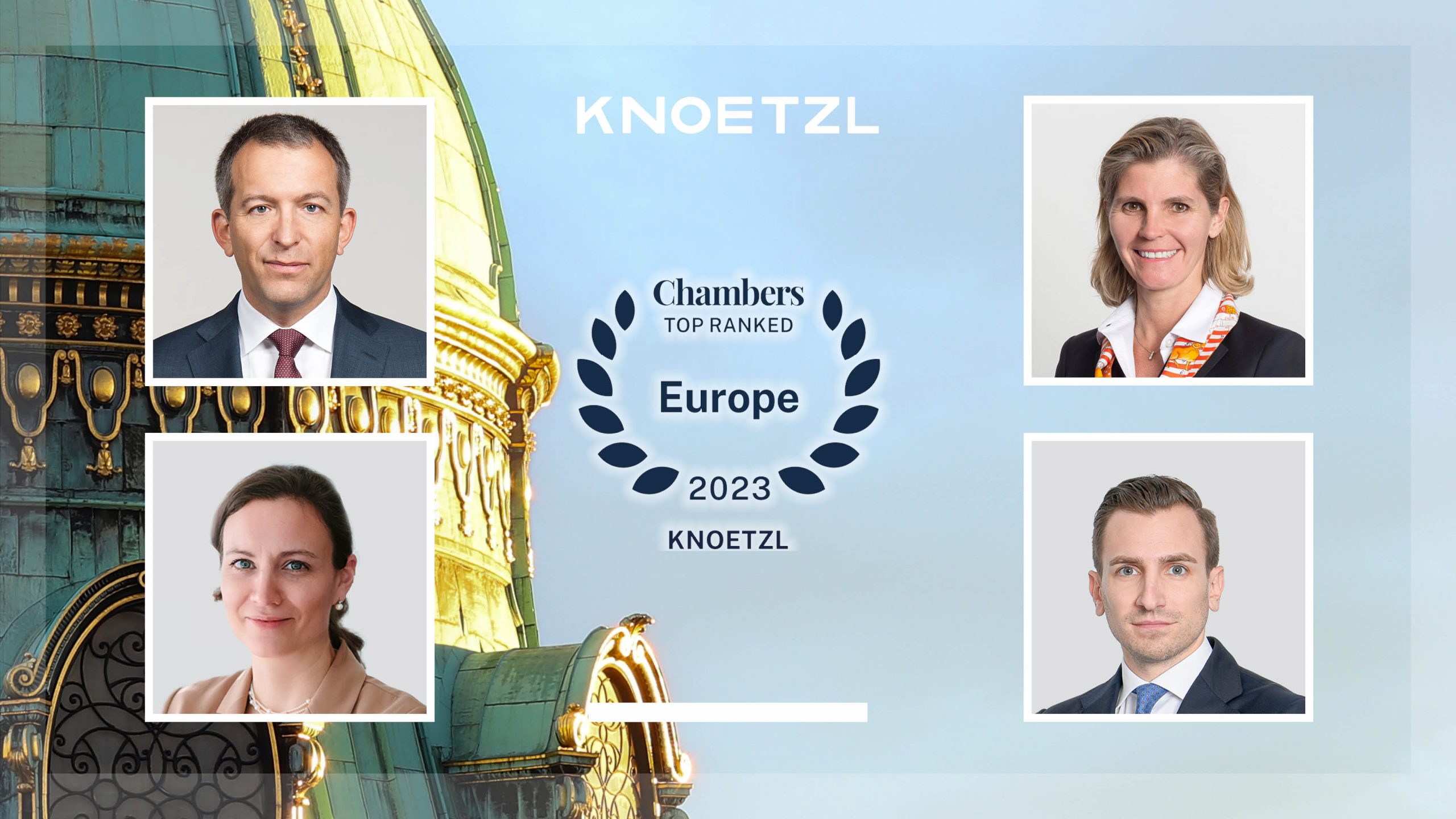 Following on our latest recognition in the 2023 edition of Chambers Global, the 2023 edition of Chambers Europe: Europe´s Leading Lawyers for Business, now further recognizes KNOETZL in two practice rankings, and salutes four individual KNOETZL Partners, one of whom we welcome as newly elevated into the Chambers Europe Ranking Table.
Highlights from the 2023 edition include the firm's "Band 1" ranking in Dispute Resolution in Austria and the acknowledgements of Bettina Knoetzl (Band 1), Florian Haugeneder (Band 1), Patrizia Netal (Band 4) and Thomas Voppichler recognized as "Up and Coming" in White-Collar Crime in Austria.
As a salute to the co-head of our arbitration department, Florian Haugeneder´s designation in Dispute Resolution: Arbitration, has been slotted from Band 2 to Band 1. Thomas Voppichler, as KNOETZL´s newly-promoted head of the white-collar crime practice, was further rewarded with an inaugural recognition by Chambers Europe.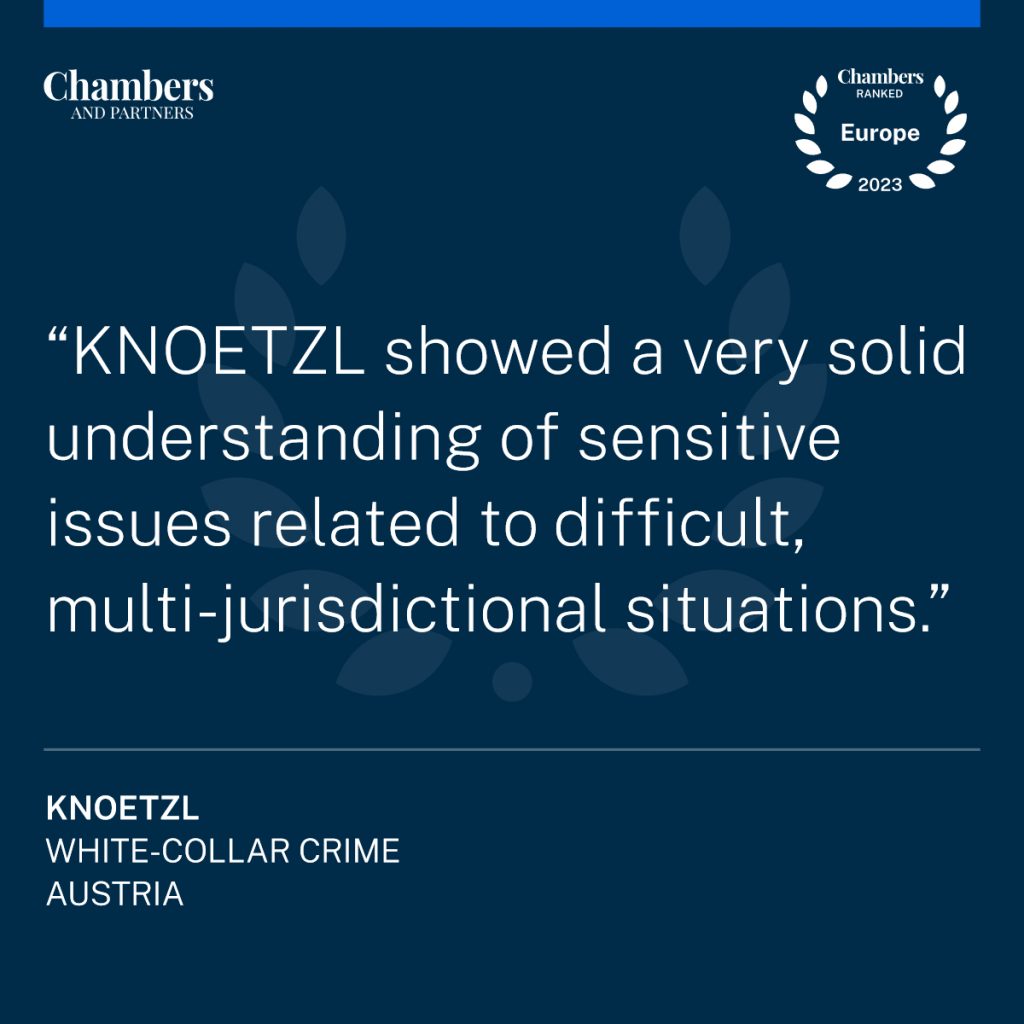 Chambers describes KNOETZL as a "well-reputed dispute resolution boutique which draws on its impressive experience in corporate and commercial litigation to support multinational companies and financial institutions on complex white-collar crime matters. The team is notably well versed in compliance matters and criminal proceedings regarding corruption and money laundering and possesses additional skills handling criminal investigations regarding allegations of price fixing and tax fraud. KNOETZL also represents individual defendants in white-collar crime cases." Our appreciation for these outstanding results is owed to our valued clients for their thoughtful recommendations, and for their continuing reliance upon KNOETZL.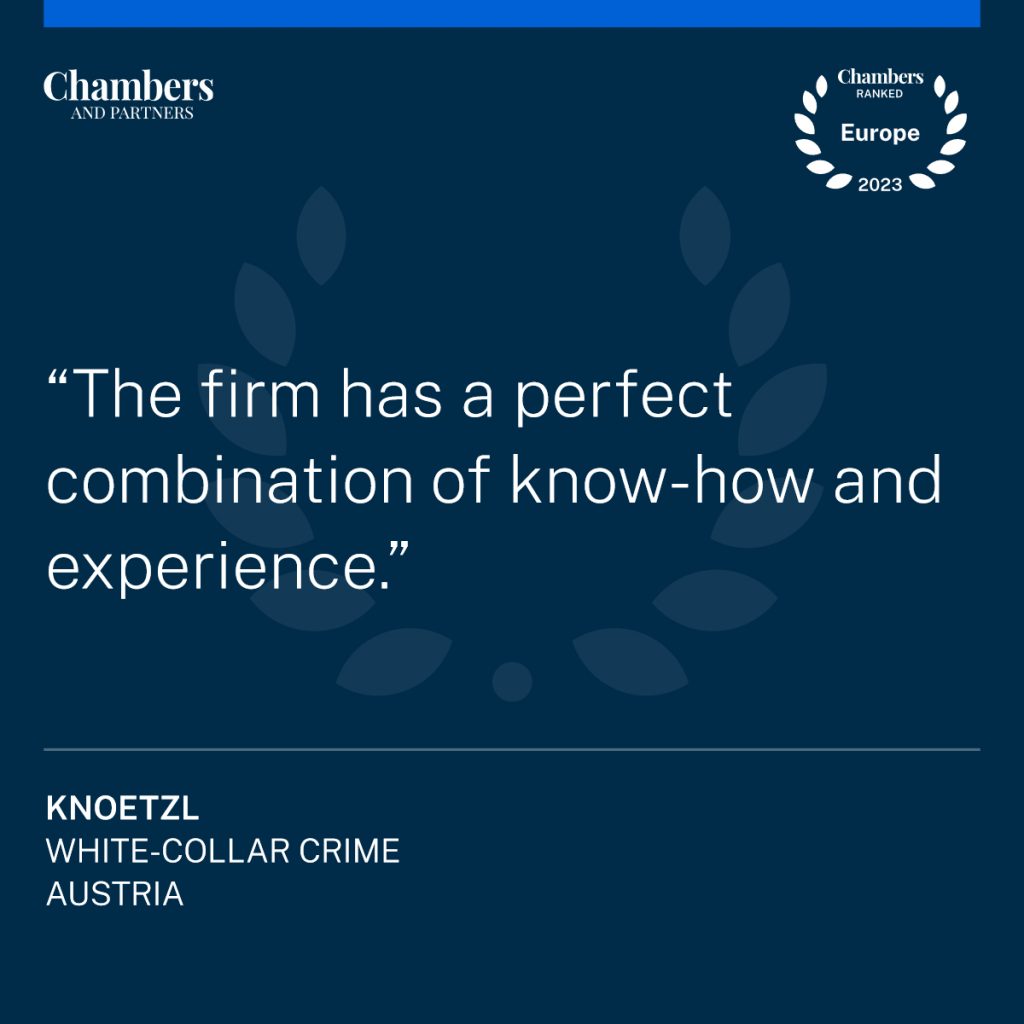 We also wish to thank our business partners and colleagues at the bar, both in Austria and around the world, as well as the entire family at KNOETZL. Client feedback in Chamber´s short description of KNOETZL posits that: "[t]hey are excellent, they resolve things efficiently, effectively, and comprehensively." and that, "KNOETZL show[s] a very solid understanding of sensitive issues related to difficult, multi-jurisdictional situations." Concerning the broad range of KNOETZL practice areas, one client believes: "[t]he firm has a perfect combination of know-how and experience."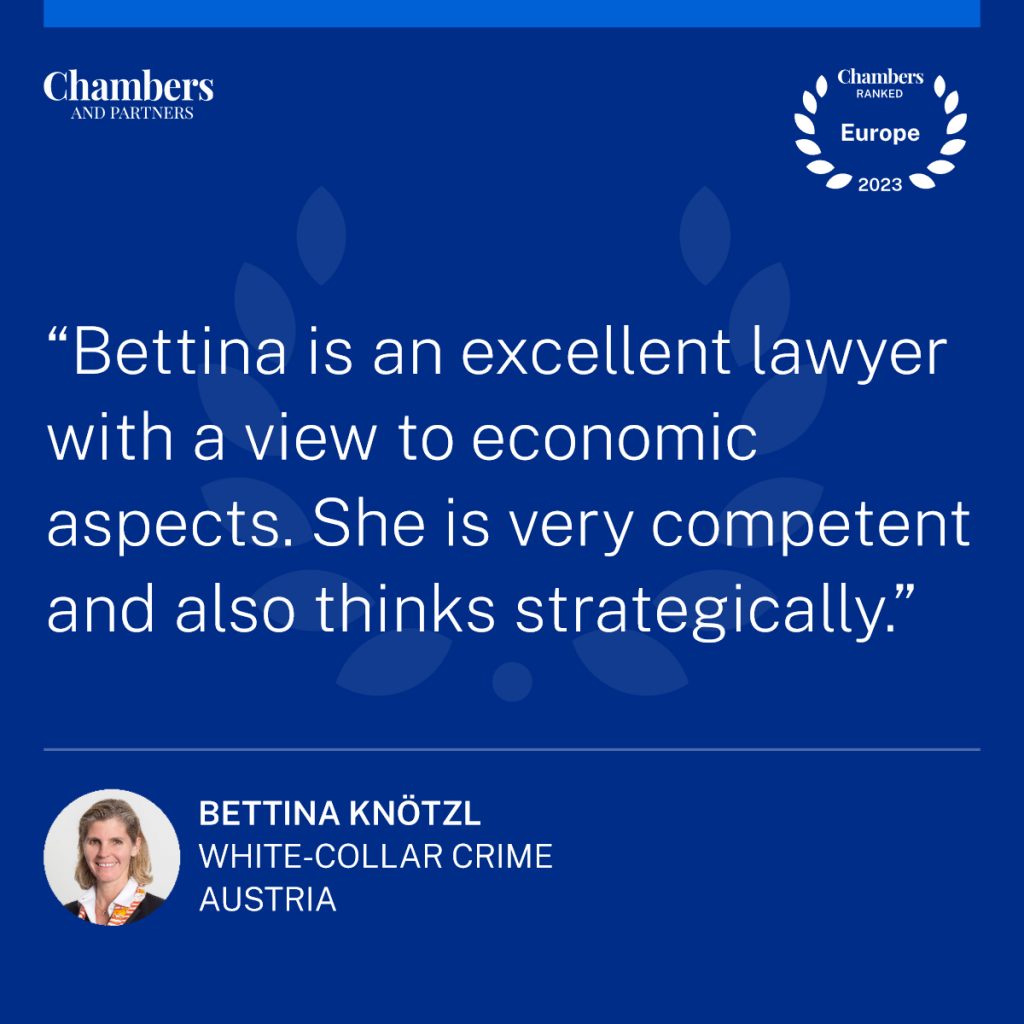 Chambers describes the firm's Bettina Knoetzl as "… an excellent lawyer with a view to economic aspects. She is very competent and also thinks strategically". Clients lauded Bettina's in-depth know-how and commitment, noting that "In some moments our case was desperate. She responded wisely and without billing every detail." Another source agreed that, "Bettina is professional, diplomatic and a very fast thinker." KNOETZL partner and co-head of arbitration Florian Haugeneder is described as "a strong practitioner with excellent experience in arbitration matters." Chambers continues, about KNOETZL Partner Patrizia Netal: "Patrizia Netal regularly advises on arbitration pertaining to damage claims and contractual disputes. Her clients include corporates from the energy and construction sectors." KNOETZL partner and head of white-collar crime Thomas Voppichler is described as "… an excellent, very responsive lawyer who understands the ins and outs of his cases."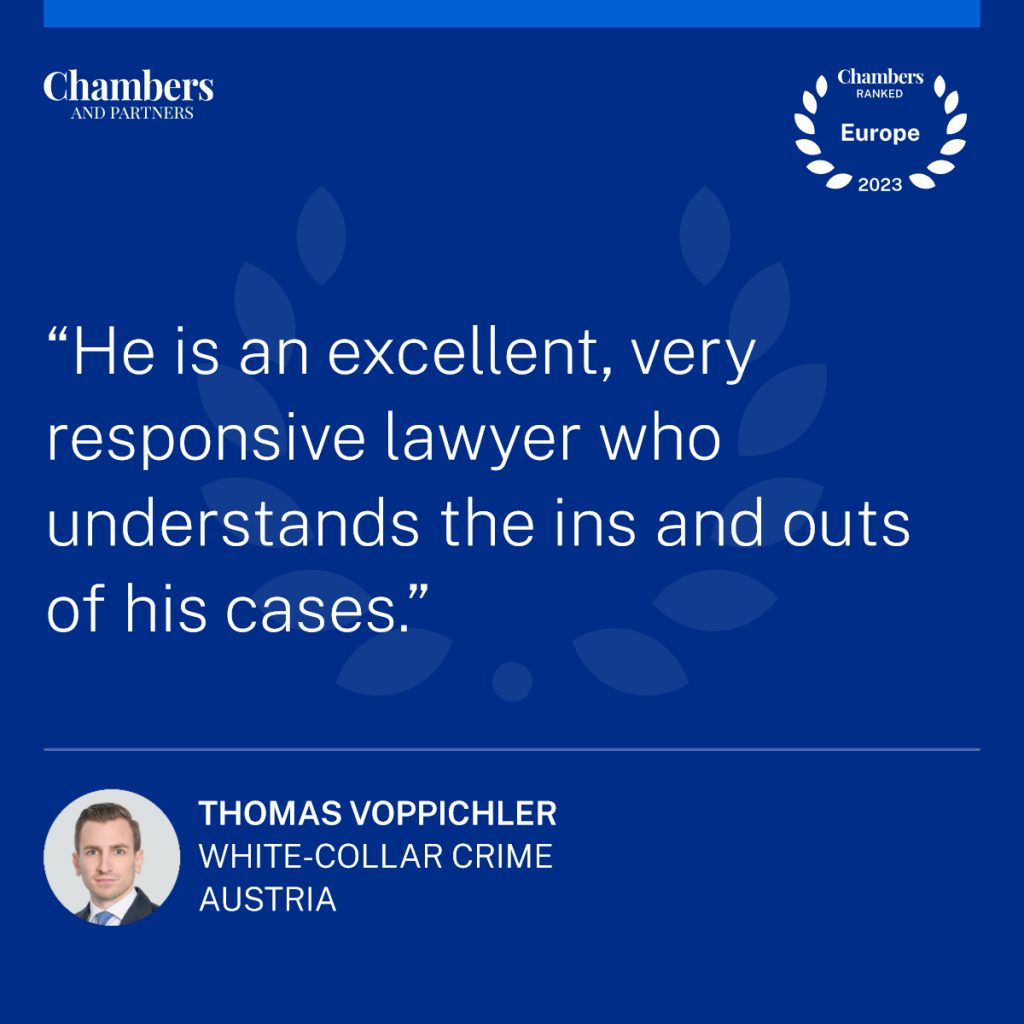 ---
The latest results can be found at:
Chambers Europe 2023 – Austria Dispute Resolution