Chambers Global 2023: KNOETZL Celebrates Superior Global Ranking in Dispute Resolution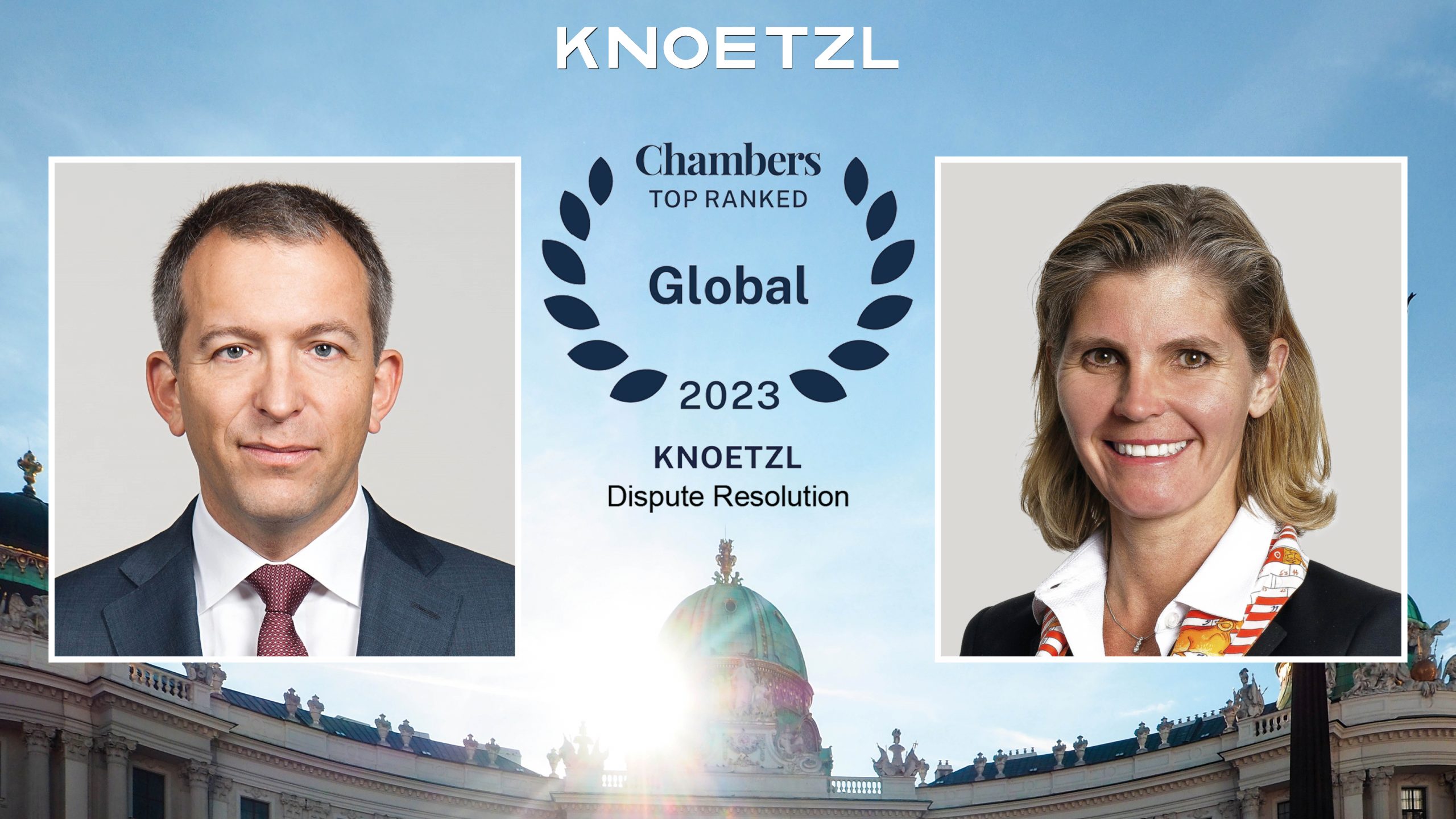 The 2023 edition of Chambers Global: The World's Leading Lawyers for Business, recognizes KNOETZL with three practice rankings, and lists two of KNOETZL's ranked lawyers as Band 1 leading lawyers, distinguished among all practitioners for their dispute resolution acumen.
Highlights from the 2023 edition include the firm's "Band 1" ranking in Dispute Resolution in Austria and the rankings of Bettina Knoetzl (Band 1) and Florian Haugeneder (Band 1). As a salute to the co-head of our arbitration practice, Florian`s Ranking in, Dispute Resolution: Arbitration, has been notably boosted from Band 2 to Band 1.
Chambers describes KNOETZL as a "dispute resolution and white-collar crime boutique offering clients impressive international expertise. The firm operates frequently on cross-border proceedings, with dedicated desks focusing on CEE-related disputes and those involving Latin American jurisdictions. Clients in need of multi-jurisdictional support will also benefit from the team's ties to overseas practices and members' experience of working in conjunction with international practices on multi-jurisdictional matters." Our appreciation for these outstanding results is owed to our valued clients for their thoughtful recommendations, and for their reliance upon KNOETZL.
We also wish to thank our business partners and colleagues at the bar, both in Austria and around the world, as well as the entire family at KNOETZL. Client feedback in Chambers' short description of KNOETZL shows: "They are very skilled in handling complex situations and are able to propose various solutions, including the best one for the client" and that, "KNOETZL shows strong commitment and are very focused on the final goal." Concerning the broad range of KNOETZL practice areas, a client notes: "KNOETZL has the knowledge and manpower to have profound knowledge in all areas."
Chambers describes Bettina Knoetzl as a "top player in the dispute resolution space". Clients lauded Bettina's in-depth know-how, noting that she is "is very committed and prepared" Another source acclaimed her "knowledge of many different cases and [that she] has built up a very strong team." KNOETZL partner and co-head of arbitration Florian Haugeneder is described as "a strong practitioner with excellent experience in arbitration matters."
The latest results can be found at: Chambers Global 2023 – Austria Dispute Resolution