Lieferketten in der Krise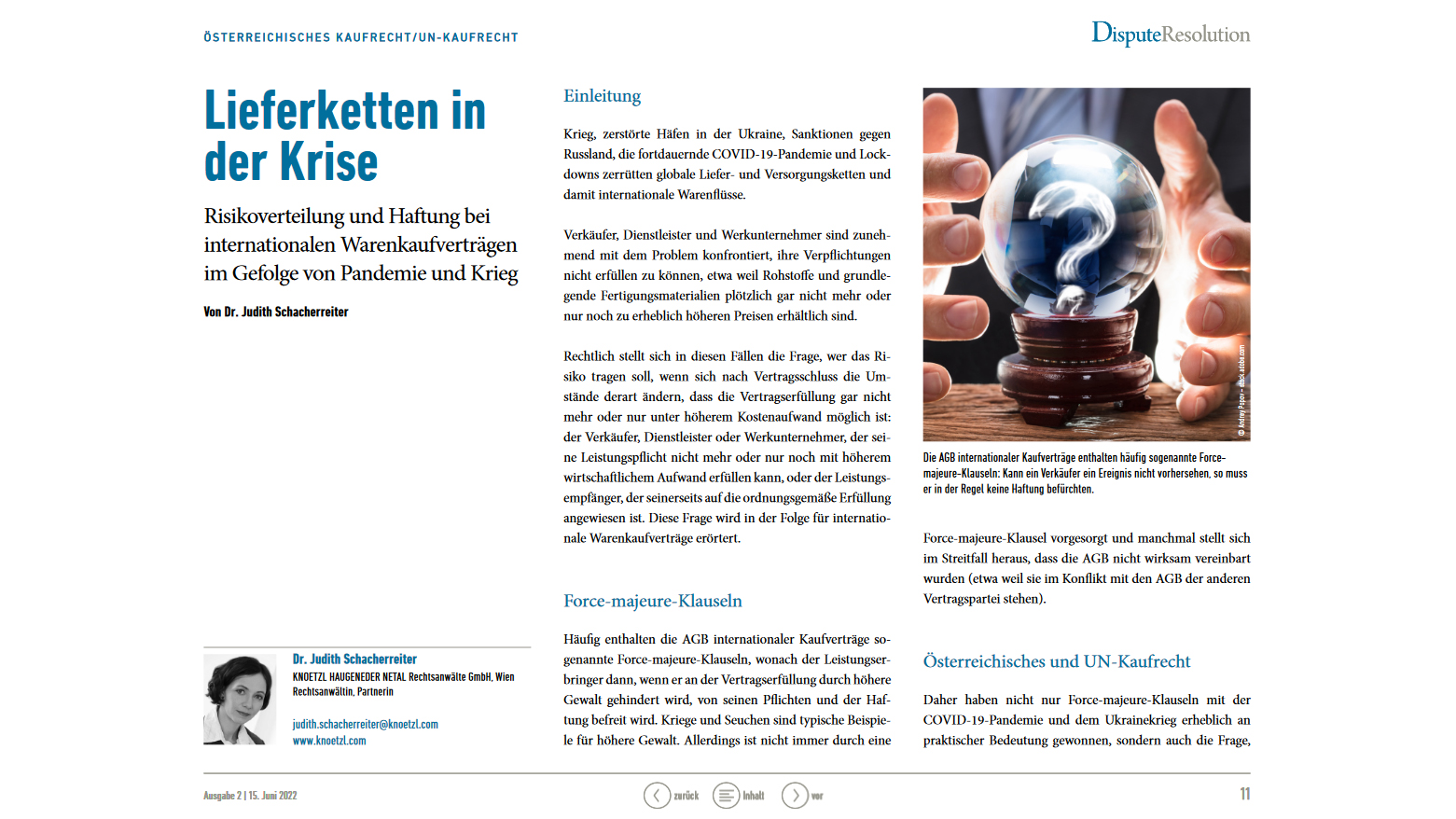 KNOETZL Partnerin Judith Schacherreiter analysierte in der Ausgabe 2/2022 im DisputeResolutionMagazin des FAZ/Deutscher AnwaltSpiegel Risikoverteilung und Haftung bei internationalen Warenkaufverträgen im Gefolge von Pandemie und Krieg.
Zusammengefasst kommt die Autorin zu folgendem Ergebnis: Wenn die Leistung aufgrund eines unvorhersehbaren Ereignisses faktisch oder rechtlich unmöglich wird, wird der Verkäufer von seinen Leistungspflichten befreit und muss keine Haftung befürchten. Eine Haftung droht ihm, wenn er das Ereignis vorhersehen konnte.
Wenn die Leistungserbringung für den Verkäufer möglich bleibt, aber teurer wird, sind zwar Leistungs- und Haftungsbefreiung denkbar. Wo genau ein Gericht die Opfergrenze ziehen würde, ist aber mangels ausreichenden Fallrechts kaum abschätzbar.
Dies gilt im Wesentlichen sowohl nach österreichischem Recht als auch nach UN-Kaufrecht. Nach UN-Kaufrecht ist allenfalls die Gefahr, für den Erfüllungsschaden zu haften, etwas höher.
Click on the button to load the content from www.deutscheranwaltspiegel.de.
PGlmcmFtZSBzcmM9Imh0dHBzOi8vd3d3LmRldXRzY2hlcmFud2FsdHNwaWVnZWwuZGUvd3AtY29udGVudC91cGxvYWRzL3NpdGVzLzQ5LzIwMjIvMDYvRGlzcHV0ZVJlc29sdXRpb25fMDItMjAyMl9MLnBkZiNwYWdlPTExIiBzdHlsZT0id2lkdGg6MTAwJTtoZWlnaHQ6MTEwMHB4OyI+IDwvaWZyYW1lPg==
Link zum Beitrag: Lieferketten in der Krise
Für weitere Informationen wenden Sie sich bitte an Judith Schacherreiter oder Ihre Kontaktperson bei KNOETZL.
---
Damit sie keine Ausgabe des DisputeResolutionMagazin verpassen, können sie sich hier kostenfrei registrieren: Newsletter DisputeResolutionMagazin.